For the past two years, the British public has applauded and relied on the National Health Service in its fight against the pandemic. However, the personal treatment of NHS staff often remains appalling.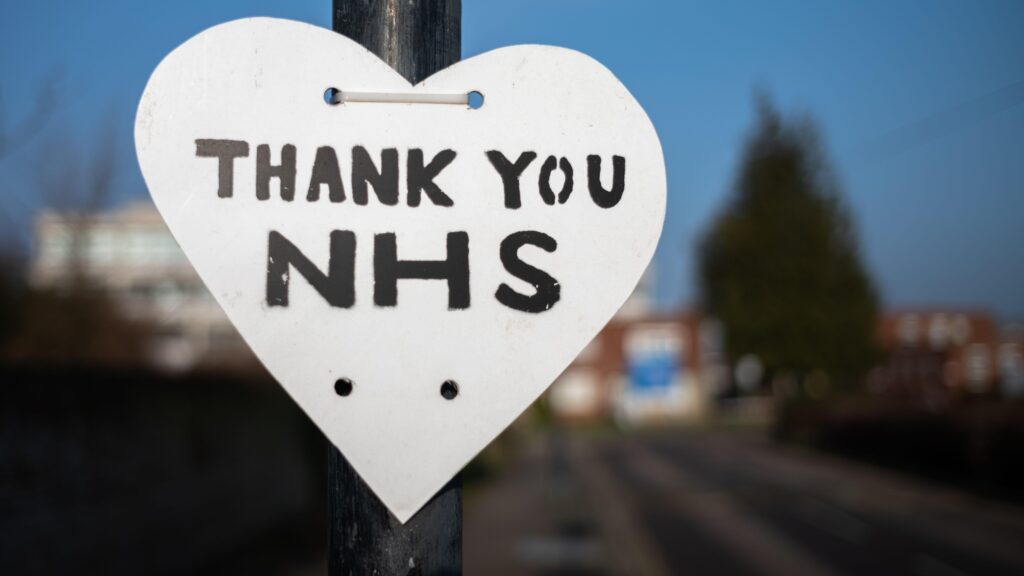 After giving birth in September, I was transferred to the postnatal ward with my newborn. My bubble was immediately burst when I listened to a father in the next bed who was on a rant to a nurse about the waiting time for the hospital pharmacy to deliver his partner's medication as well as the heat. The nurse explained that the pharmacy covered the entire group of hospitals, and that the heat was controlled centrally. He eventually acquiesced and in lieu of an apology, he admitted "I know it isn't your fault". It is this sentiment that makes poor behaviour toward NHS staff a puzzler when you consider our cultural propensity for politeness at all costs. However, it is an attitude that is becoming increasingly common in Britain and no amount of clapping can make it go away.
Being in the midst of a pandemic, the NHS is a constant focus in the news, meaning that the majority of people are aware of the spectacular strain on an already historically underfunded service. A UNISON report in 2021 found that 69% of healthcare workers experienced burnout due to COVID pressures and 62% felt overwhelmed during long shift hours. A British Medical Association survey reported similar findings, with half of the doctors surveyed in the same year saying that they either wanted to cut down their hours, take a career break or leave the profession altogether due to the stress of overwork.
The most obvious and historic issue facing the NHS is financial, with the government introducing austerity measures in 2008, beginning a decade of underfunding with only a 1.4% rise year-on-year when inflation was taken into account. In the five-year funding deal that was announced in 2018, the rate has increased but is still lower than the 3.7% rise that the NHS has required since its creation. This mandate didn't account for several areas such as capital investment, public health and staff training. While there have been a couple of cash boosts in recent years and an extra £60 billion in response to the pandemic, this money can only go so far when there is a myriad of issues to address.
There are staff shortages, the government spends less per head on the NHS and it has fewer beds and doctors per head than many comparable countries. External cuts to mental health and social care have also added huge pressures. From the funding it has received since 2017, only 3% made it to the front line.
Now, the UK is increasingly polarised when it comes to the NHS, with growing backlash at both GPs and A&E staff, for not offering enough face-to-face appointments and long waiting times. Abuse has risen on the frontline, with physical assaults on NHS staff almost doubling, with 13,332 being recorded in the 2010/11 period and 25,424 in 2020/21. This doesn't account for verbal abuse and other aggressions that NHS staff encounter daily.
NHS staff have shared being called 'murderers for giving out the death jab' as well as receiving death threats. A nurse described the abuse and representation of healthcare workers as "demoralising and worst of all – no one cares." An occupational therapist told of how she left her role in order to protect her mental health, but it was a hard decision as "I never thought I would leave the NHS." Another nurse said that ​​staff at her hospital were walking out mid-shift in tears as morale there had fallen to "zero."
It's a complex picture as support for the NHS remains high, at least on paper. As well as the now-infamous lockdown clapping, 77% of responders to a King's Fund survey felt the NHS should be maintained as is, with 90% saying that they're still in support of the reasons behind why it was founded in the first place.
The NHS is an easy target for debate and deeply politicised during elections, as Chris Hopson, Chief Executive of NHS providers wrote in The Times, due to the huge support it does receive from the public. It is also heavily reliant on migrants choosing to work there as 15% of the workforce were born overseas, another hot-button topic that is overused by politicians, even though the available UK-born workforce is shrinking.
So the question remains, why are NHS staff treated so poorly even when the public knows what staffers are up against?
The first reason and one that isn't always acknowledged is the frame of mind of someone when they enter the hospital in the first place. Neuroscientist Dr Dean Burnett points out that anyone using the NHS is already unwell or believes themselves to be. "They are going to be feeling uncomfortable, scared, frustrated, on edge, in pain, or any combination of these things." Negativity induced by this discomfort can mean that "our patience and ability to remain civil are already reduced."
Health psychologist Cynthia McVey adds that "drugs and alcohol can produce aggressive behaviour." Being in a hospital can also induce negative feelings even when treatment is underway. "Some inpatients may feel bored, be missing friends and families, social life and familiar food. They then vent their frustration by blaming, complaining and sometimes being abusive to the staff."
These are all factors that any health service may be up against, and they are circumstances that are hard to mitigate. However, patients whose healthcare experience "causes them further inconvenience (long waiting times, brief/curt assessment and treatment, all of which will be very common in an overworked and underfunded health service), will become even more unhappy and hostile," explained Burnett.
He continued to elaborate that the human brain is sensitive to any "perception of unfairness and injustice." This produces a negative emotional response in the brain, like anger, that then needs a target to direct itself towards.
Psychologist Lee Chambers believes that NHS staff become targets of these feelings for a number of reasons. He says there is "an element of de-personalisation of employees behind their position, with [patients] being given space, which presents an opportunity to express emotions." These are directed toward NHS staff in his opinion as they are "considered, both consciously and unconsciously, to be more compassionate and empathetic, and therefore more resilient to abuse."
The NHS being funded by the taxpayer can add another layer to the frustrations of patients. "There may be some arrogant personalities who see NHS staff as their employees, almost servants, owing them something and expecting immediate and perfect attention," says McVey. She believes this happens "regardless of the seriousness or otherwise of the medical need and/or the comparative others requiring care."
Burnett acknowledges that frontline staffers are not the one's responsible for all of the NHS's problems, but our subconscious mind doesn't work like that. "Our emotional processes and drives think more in terms of what's tangible and immediate, so we tend to focus on and respond to what's right in front of us." This puts staff like nurses in the firing line and he believes this creates "a perfect storm of factors that can lead to a loss of control and subsequent hostile behaviour."
However, just because a person behaves badly, it doesn't mean that they would stand by it if they were to consider or be aware of their actions when they were well. "Some of these people may, in retrospect, regret their behaviour as their knowledge of the challenges of the jobs has been overwhelmed by the emotions of what they perceive as a very threatening situation to themselves," advises McVey.
COVID and the cultural shifts around it may inevitably have played their part, especially the messaging and subsequent backlash around vaccines, for example. "There's a great deal of misinformation out there which casts the medical field and workers in very unfair, inaccurate, negative ways," surmised Burnett.
In terms of politics, there may be an element of taking frustrations out on those not responsible. "Those who make the decisions that affect individual lives in negative ways are almost always aloof and unreachable, so it's those lower down who bear the brunt from the fallout of their actions," concludes Burnett.
While McVey described some of the psychology behind these actions, she acknowledged that it doesn't necessarily mean that it is fair for those on the receiving end. "None of this excuses any form of negative treatment of those who have trained for years, work long hours and are doing a difficult, challenging and caring job."
The measures taken out to manage violent or disruptive patient behaviour are a mandatory course for NHS staff to attend on how to deal with abuse, as well as increased penalties for assaults on emergency workers. For the time being, neither of these incentives prevent the abuse from occurring in the first place. It seems that until patients feel comfortable in the care of a fully-funded healthcare system and we experience a cultural shift away from the depersonalisation and blame of NHS staffers, abuse may become or continue to be an accepted part of the job. Unfortunately, everyday abuse is already the case for many of the thousands of individuals that care for the nation every day, despite the personal toll on their own health.
---
Jennifer Sizeland is a freelance writer and assistant producer with 12 years of experience in the media industry. She has written for many publications including the BBC, the Independent, Metro, Manchester Mill, Prospect Magazine, the Media Diversity Institute, Funny Women and her own sustainability blog called Land of Size. She lives in Manchester.CM