The London Flamenco Festival invites visitors to experience a 'mysterious force that everyone feels, and no philosopher has explained.'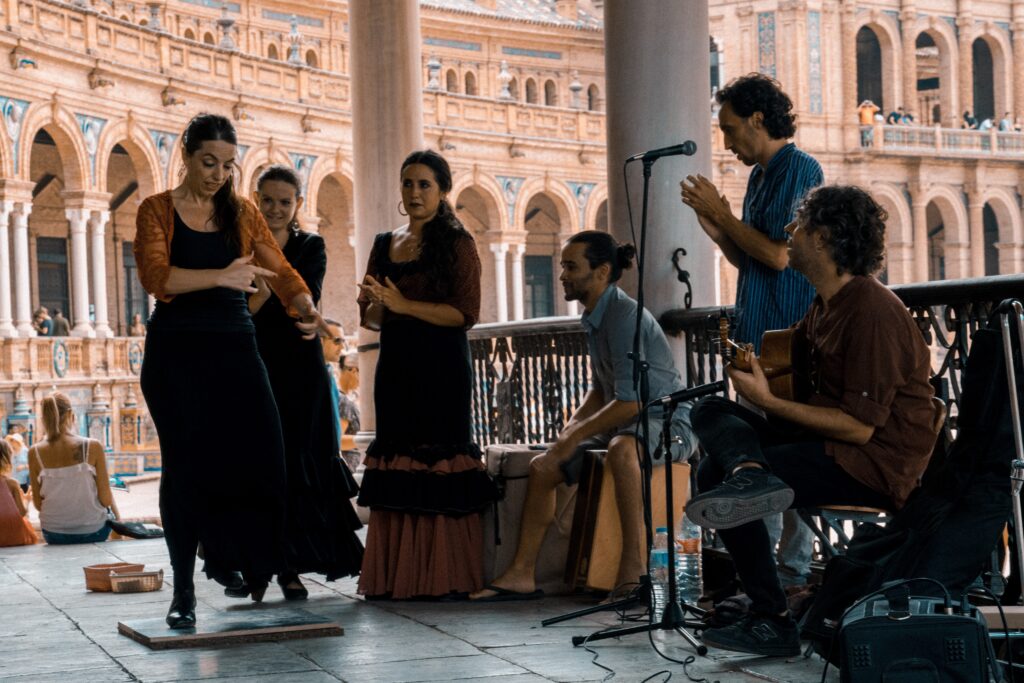 It's arguable that, without Federico García Lorca, the notion of duende would not have entered into contemporary popular culture. The Spanish poet and playwright was passionate about the gitano culture, and flamenco in particular. Characterised as the fiery music and dance performance, flamenco was central to the gitanos (Southern Spanish Romani groups) lifestyle and ethos. In 1922, the twenty-four year old Lorca gave a lecture at the Centro Artístico in Granada. Entitled 'El Cante Jondo. Primitive Andalusian Cante' ('The Deep Song. A Primitive Andalusian Song'). Lorca wanted his talk to draw attention to the impending death of the flamenco song. He referenced Manuel Torre to illustrate his point. Also known as El Niño de Jerez, Torre was one of the last singers of what were termed the 'black sounds' and 'deep songs' (cante jondo) of flamenco and Andalucian culture; verses that had been passed down through the generations without being recorded or documented as musical scores. Warning that Torre was one of the last of a dying breed, Lorca was driven by what he saw as the rapid dilution of the flamenco tradition. The fervid and unique cultural totem, he argued, was rapidly turning into a cheap, diluted song and dance act, a cynical way to beckon tourists into Spain's cafes and bars.

To Lorca, the death of true flamenco would signal the death of duende, the elusive phenomenon that fuelled the flamenco singers, players, and dancers. While the literal translation of duende is elf or goblin, in flamenco lore, the word means so much more. Lorca described duende as "tragedy-inspired ecstasy, a poetic emotion which is uncontrolled", and used Goethe's summation of virtuoso musician Paganini (whose nickname, incidentally, was The Devil's Violinist) as a further definition: "a mysterious force that everyone feels, and no philosopher has explained."
Edward Hirsch's 2002 book, 'The Demon and the Angel: Searching for the Source of Artistic Inspiration', explores what duende means and what it can do. "It seems clear why certain artists want to fend off the irrational splendours of duende", he writes. "Sometimes to the detriment of their work, but for the sake of their sanity. Duende shuns the middle way, and it avoids works of art that show too much emotional balance and tranquillity, feelings tamed entirely to reason, to so-called common sense".  For Hirsch, duende is "…a radically accelerated process of creation in which everything is at stake."  Like a shiver up the spine, duende is raw and impossible to control; an ultimate emotion that bundles tribulation with helplessness and surrender.  The sensation that compels artists, writers, dancers, and musicians alike.

In a lecture on the art of poetry and songwriting at the 1999 Vienna Poetry Festival, Nick Cave paid tribute to Lorca's evangelical spreading of the nature of duende, explaining "all love songs must contain duende. For the love song is never truly happy. It must first embrace the potential for pain." In his acceptance speech for the 2011 Asturias Prize for Literature, Leonard Cohen thanked Lorca for giving him "permission to find a voice, to locate a voice, to locate a self: a self that is not fixed, a self that struggles for its own existence." Both Cave and Cohen's work is filled with duende. Created in the early 1800s, Goya's Black Paintings scream duende.  Edvard Munch's 'The Scream' screams duende.  The writings of Dostoyevsky, Marlon James, and Cormac McCarthy are shot through with duende. 

Lorca's work continued. Published in 1928, his book 'Romancero gitano' (Romani Ballads) employed verse to explore the persecution and marginalisation of the Andalucian gitanos. In 1931, he published 'Poema del cante jondo' ('Poem of the Deep Song'), a collection of poems designed to invoke the sense of duende experienced through listening to flamenco songs. During a 1933 trip to Buenos Aires, Lorca delivered his 'Theory and Play of the Duende' lecture. He referenced Goya, Velasquez, and his friend Picasso, saying, "duende is a force, not a labour, a struggle not a thought. I heard an old maestro of the guitar say: 'The duende is not in the throat: the duende surges up, inside, from the soles of the feet.'"  He told of how an eighty year old woman at a recent Andalucian flamenco dance contest had beaten much younger women "with waists like water" by simply summoning the spirit of duende in the way she held her head, moved her arms, and stamped down on the wooden stage.

---
By 1936 Lorca was dead, killed in circumstances that remain unexplained. But his passion for celebrating duende lives on.  Writer and traveller Jason Webster has written two books on the subject: 2003's 'Duende: A Journey In Search of Flamenco', and 'The Book of Duende', published in 2022.  In his first book, Webster arrived in Spain from the USA with the ambition of becoming an accomplished flamenco guitarist. He travels to the south of the country and stays with a local acquaintance, Pedro. One day Webster asks Pedro about flamenco's roots. 'Flamenco,' Pedro replies. 'No-one even knows the origin of the word. Some say it was a term used by Spanish Jews for songs their relatives were allowed to sing after moving to Flanders, but which they themselves were forbidden by law to perform. Or perhaps you'd rather go for the Arabic version: that it comes from felah manju, or escaped peasant.'  That night, Pedro takes Webster to a flamenco performance, replete with dancers, singers, and musicians.  In this extract from the book, Webster explains how the evening unfolded.

'Did you feel it?' Pedro asked when the piece was over. 'Yes,' I said.  'No,' he said. 'Did you really feel it?' I couldn't speak. The performance had filled me with something I had never felt before, and didn't know how to describe. 'That was duende,' he said.
---

The Flamenco Festival London 2023 takes place at Sadler's Wells Theatre & Lilian Baylis Studio from July 5th to the 15th