Could it be that in 2022, after two years of stress-inducing pandemic lockdowns, increased drinking and a national surge in weight, COVID-19 might for once turn into a good news story?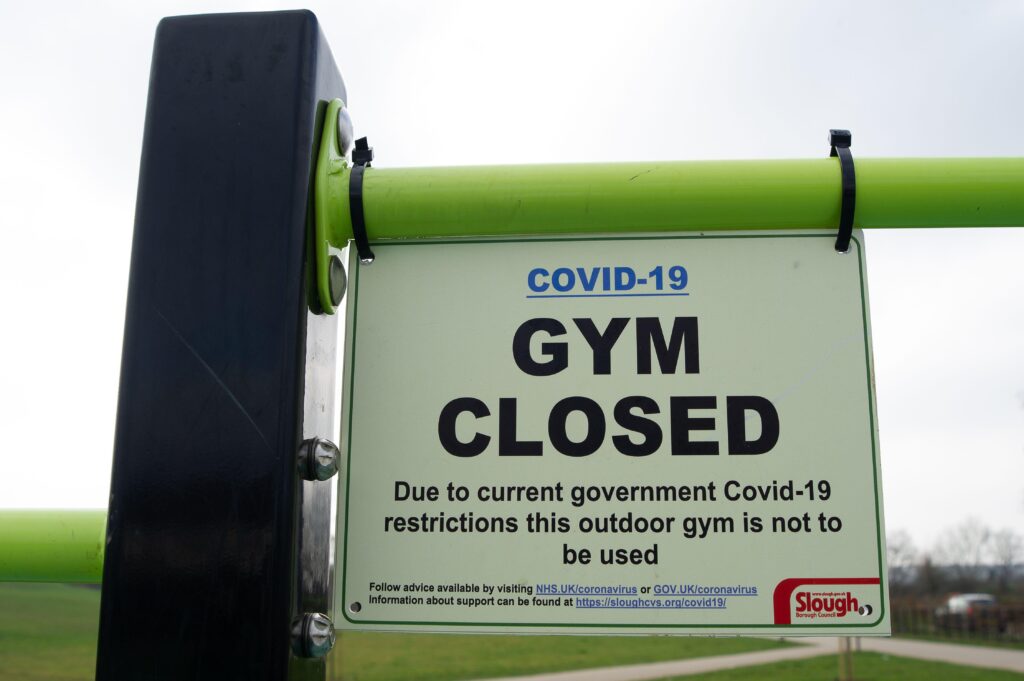 For decades now, the world has been engulfed by a silent, ever-worsening health crisis. It is not the one you might expect.
Today, in every region of the globe except in some areas of sub-Saharan Africa and Asia, more people are obese than are underweight. In the UK, we have the widest waistlines in Europe. But could the COVID-19 pandemic that has led to so much suffering turn out to have a lean sliver of a silver lining?
For decades, my former colleagues in public health have been struggling to find effective ways to halt obesity. For most of those years, government policy-makers met their efforts with varying combinations of hostility, inertia or incomprehension.
Obesity kills. The problem is it kills slowly and expensively, via long-term illnesses like cancer, diabetes type 2, respiratory disease, heart attacks or stroke. The stats tell us that excess weight contributes to around 64,000 deaths every year. Any normal year, that is.
Then came COVID-19.
Excess fat doesn't just sit under your skin. It builds up in the tissues of vital organs like the heart, intestines, lungs and liver, triggering hormonal changes which can, in turn, activate devastating long-term illness. The bill, both financial and emotional, is gargantuan: every year, around 900,000 people are admitted to UK hospitals with an obesity-related disease, at an annual cost to the NHS of more than £6bn. That's not to mention the devastating cost to the patients' lives.
Unless we do something to reverse this, by 2050, NHS spending on obesity-related disease could rise to a staggering £9.7bn a year. A pandemic all of its own which threatens to overwhelm the NHS no less effectively than if we had allowed COVID-19 to rampage unchecked.
As most of us are now aware, obesity ups the risks of serious illness or death from COVID-19. Too much fat produces inflammation in the body, which damages your immune response. Who had ever heard of a 'cytokine storm' before watching the news in 2020?
This is very worrying for the sixty-three per cent of us who are too fat. Of that 63%, fully half are defined as clinically obese. A BMI (a rough measurement of fat in the body) of over 40 increases your risk of dying from the virus by 90%. Death rates worldwide were 10 times higher in countries like ours or Mexico, where more than half the population is obese.
In April 2020, amid all the corona-chaos, came a welcome wild card. The man who had flippantly dismissed sugar taxes on killer drinks as 'sin taxes', our own somewhat tubby Prime Minister, ended up being hospitalised. Boris Johnson's weight, and maybe his fondness for cheese, had exposed him to severe COVID-19.
When Johnson emerged wheezing from St. Thomas's hospital, he'd had a Damascene conversion. With his own child Wilfred on the way, he declared he'd been too 'libertarian' in the past. He pledged to halve childhood obesity by 2030. It was a re-heat of a neglected promise originally made by David Cameron. At least, though, this was back on the agenda…
Rubbing their eyes in wonder, public health officials dusted down and buffed up their shelved strategies for helping people lose weight and lead healthier lives. Boris Johnson was released from the hospital on 12 April 2020. At astonishing speed, less than three months later, a policy entitled Tackling obesity: Empowering adults and children to live healthier lives launched.
Many inter-connected factors affect people's health, and like our genetics, many of those governing weight are out of our control. 'If we eat too much and exercise too little, we will gain weight. This is true for every human on the planet,' says Professor Paul Gately, a specialist in obesity at Leeds Beckett University and the director of weight-loss support group MoreLife: 'The problem is that what influences these two behaviours is incredibly complicated. There is no single solution to obesity.'
The pandemic has massively increased national understanding of health as a multifactorial, socio-economic challenge. One look at the figures, for example, tells you that unhealthy eating is dominated by two issues: poverty and inequality. The Food Foundation estimates that the poorest decile of UK households would need to spend a staggering 74% of their entire disposable income to be able to meet the cost of the Government's so-called 'Eatwell Guide', and enjoy a healthier diet. People on low incomes eat more sugar and less fibre, vegetables, fruit and fish than the wealthy.
Take Stoke on Trent: seventy-six per cent of its population is either overweight or obese. Over half the town's food outlets – that includes 'proper' restaurants – sell the processed gunk called fast 'food'. Children are especially vulnerable; the least well-off 20% of families eat 29% less fruit and vegetables and 75% less oily fish than the wealthiest 20%.
This is why the 'Tackling Obesity' strategy's continued emphasis on personal responsibility is unwelcome. Giving people better information, the British Medical Journal points out, 'will benefit only those with the time and cognitive, psychological, and material resources required to engage.'
People in the 21st century don't have less willpower than previous generations. Obesity is a symptom of a societal problem; the result of systemic failure as much as of individual self-discipline. There are 1.2m children in need of medical help to treat their clinical obesity, which damages their sight, joints and, not least, their self-image. Can you blame a child?
The intensive marketing of Franken-foods and the endless prompts to shovel it down – advertising, till points, the burger joint on every corner – is irresistible to a species programmed through millennia to eat what they can, when they can. The real enemy is Ultra-processed. It delivers thousands of useless, fattening calories – and because there's nothing to chew, takes only minutes to eat.
---
So why be optimistic? Are there really reasons to be cheerful, post-pandemic?
The system is ready to change. The 'whole systems-approach' to obesity is a concept that has been in gestation for at least 20 years. In the UK a veritable Rubik's cube of national and local government plans is ready to click into place, acting in concert with the NHS and the private and third sectors. The Government just needed to come on board. 'Tackling Obesity' has finally landed some significant changes. These include advertising 'watersheds' for products high in fat, salt and sugar, and a huge expansion of NHS weight management services. Until COVID-19, these measures were beyond the fondest dreams of health campaigners.
'There's been a huge shift in momentum,' says professor of food and public health Wendy Wills, who understands the complexities of the 'whole systems' approach better than most. 'We are past the start of a long turning point. I'm hopeful.' We can characterize that turning point as building bricks into a wall.
Brick 1: The Evidence.
Obesity is now one of the most researched topics in the scientific lexicon. This has seen the condition re-classified as a chronic disease, which in turn has released funding for scientific, medical and behavioural research. We are also in the middle of a scientific revolution that is set to transform the way we think about nutrition, metabolism – and dieting. Fat, we now understand, is a vital and life-pre-programming organ. Fat not only stores energy, but hormonally controls how much of it we use.
An extraordinary, roaring twenties cascade of biological and biochemical research coincides with the birth of another useful body of academic work emerging from the social sciences and behavioural change.
Brick 2 The Infrastructure
An entire health infrastructure – friable and damaged though it is by years of cuts – is ready and waiting to drive radical improvement in our collective weight management. Take the NHS Diabetes Prevention Programme, which began in 2016 and is rapidly being expanded. It gives free bespoke advice on diet, health and being active. Typically, its patients lose 3.3-3.6kg. You used to have to be referred by your doctor – now you can just sign up online yourself, via Diabetes UK.
We also have a smorgasbôrd of complementary health policy frameworks: this includes the well-regarded National Child Measurement Programme, which deals with over 1m children a year.
Brick 3 Planning Policies
Your local environment – how safe it is, how fun it is to walk in, how clean it is – has a huge effect on how active or inactive you are. We all saw that during the worst of the pandemic lockdowns: walking more was the only thing that kept most of us sane.
As the former chief medical officer Sally Davies has repeatedly said, people – and especially children – need exercise. [Yes, there was a CMO before Chris Whitty]. For that, they need clean, and where possible, green space. Creating more exercise-friendly workplaces, parks and public spaces is now enshrined in local authority guidance.Promoting walking and making cycling safer joins so many dots: it improves physical and mental health, and works towards net zero carbon ambitions.
Brick 4: Innovation
When the then-Cameron government introduced a tax on sugary drinks in 2016, one industry representative went so far as to say the measure would 'cost thousands of jobs.' It didn't. Instead, the push against sugar drove innovation, and a wide range of attractive zero-sugar or sugar-light drink products continues to thrive.
Then there's digital. Out in the commercial world technology, and particularly the mobile revolution, is also driving rapid change. Tracker watches and paid-for services such as Zoe and Noom (mantra: 'real talk') may be for the better off, but you can't keep people who have lost weight from telling other people how they did it.
Meanwhile, the public servants had just been waiting for their chance. Only 400 or so paces away from Parliament in Victoria Street, the NHS, Public Health England and the Department of Health and Social Care had already pre-prepared a raft of 'oven-ready' free digital offerings worthy of Bake Off. They include a free, 12-week eating plan called 'Better Health'. Online 'Healthy Weight Calculators' are also available gratis at both Rethink Obesity and the NHS.
Brick 5 Best Practice
Thanks to Paul Gately and others, detailed local authority behavioural change plans are widely available, like the 'Leeds-Beckett model': a sort of 'To Do' checklist. With models such as these, local authorities know what works, and what doesn't; they don't have to experiment wildly. And they have an extraordinary asset: schools. Blackpool Council is convincing schoolchildren to give up one of the worst offenders when it comes to gaining weight: fizzy drinks. Croydon is working away hard at changing food cultures…Wigan has 'The Daily Mile' and The Daily Toddle'. The list of practical 'interventions' is ever-growing.
When it comes to adults, new, free, weight management courses are now being rolled out across the country. They take well-evidenced behavioural and nutritional approaches, and make them work. And unlike their clients' belts they are expanding: one small company I talked to had grown so rapidly that within two months, its 31 employees became 73.
These and similar services complement the move towards 'social prescribing' of diet and exercise programmes by GPs.
Brick 6 – Good food When the Government launched the £220m Community Renewal Fund in May 2021 (another post-COVID initiative) many successful bids were from food-growing groups. Community-driven sustainable food movements are springing up countrywide. Along with foodbanks, they are part of a mosaic of attempts to redress food poverty and ensure our food is actually nutritious, instead of undermining our health.
Back to technology, and digital innovation. Idealists like the people behind 'Olio' are also ramping up the dial. This free app helps people share fresh produce at no cost.
Brick 7 – Food and Farming policy This could be such a huge 'plus' on the good news mood/food board that it warrants its own, separate brick. In 2019 Brexit pushed, some would say forced Government to create a National Food Strategy (NFS). At last. The result, published in two parts over 2020-21, is the first coherent food and agriculture strategy England has had for 75 years.
It's interesting that Henry Dimbleby, the independent businessman and brains behind much of the report, once worked as a journalist at The Daily Telegraph. So did both Boris Johnson and the minister for everything, Michael Gove.
But even Dimbleby was shocked when some proposals – for banning online advertising for HFFS products (those high in saturated fat, sugar and salt) and creating a television advertising watershed of 9pm – were adopted into the 'Tackling obesity' strategy. If this is an 'improper influence' of government policy, then bring it on.
His NFS report is highly ambitious, but in a good way. It, too, acknowledges that the UK's problems are systemic: farming and inappropriate food-production practices interact with health inequality, diet-related disease and biodiversity loss.
Dimbleby aims to break the ruinous junk-food cycle that is destroying the UK's health. He wants to set up a huge, research-fuelled network to help us all eat fresher, less fattening food, reinforcing what CMO Davies, the BMJ and the World Health Organisation etc had been saying for years. The report's most radical proposal is the world's first sugar and salt reformulation tax.
Will this ever happen? Recommendations don't become policy by wishful thinking. The White Paper isn't due till July 2022. But let's not forget the former journalist's HFFS suggestions were parachuted into policy, seemingly overnight.
The fallout from COVID-19 has shone a spotlight on the unsustainable costs of treating obesity. This may just convince the government to act on Dimbleby's proposals.
---
Finally, a last 'brick' in the wall. The increased individual health awareness COVID-19 has helped curate comes at a time when the health system (aka doctors and nurses) has stopped treating obesity as a 'doorhandle issue'; a moral failure; an insoluble issue of laziness winning over willpower. Healthcare professionals are now much more open to diagnosing patients – and thus much closer to helping them. What are known as 'clinical pathways' – again, a sort of researched and tested planning tool, or 'To-Do' list – are now ready, in place within the NHS for the clinical prevention, management and treatment of obesity.
We do now need leadership, and not just from government, but from health leaders. We need a government committed to delivering what's already been promised, and an acknowledgement that single-issue 'solutions' lack the scale to solve a problem that is this serious, and this complex.
There is a fear that this Government is guilty of self-delusion, and that it will not deliver the reforms it has promised. Yet COVID-19 has shown us that a societal response to the threat of disease is possible.
Can the UK reverse the slow-motion disaster of obesity? It is already armed with a systemic vision for a leaner, fitter future UK. It does look as if we've now got a chance. We must not miss this moment.
---
Gaynor Aaltonen is a freelance editor/journalist and founder of the BodyTalks health talks programme, funded by Westminster Council during the pandemic. She worked for Public Health England for several years, where she was the editor of the policy report Everybody Active, Every Day and worked on the Ebola virus response as well as various GP training programmes. She has published several books and written for The Guardian, The Financial Times and Architect's Journal.