While blackness was once depicted as a sexual threat to white females, nowadays it has become a code for hyper-masculinity and potency. How does the 'BBC'-stereotype influence the self-image of black men in Britain?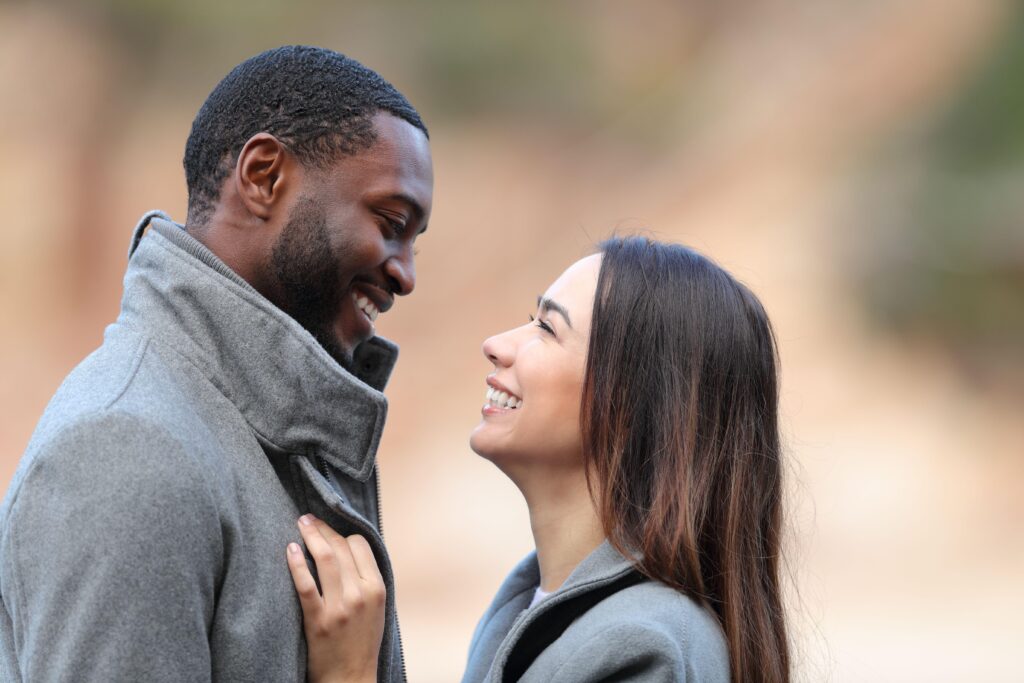 London is lovely in winter at night: crisply quiet and cold. I went on a walk with my partner, our hands held, and white skin contrasted to black. The Thames stretched behind us.
When a man passed us on his electric scooter and yelled, "YOU GET THAT BIG BLACK C*CK GIRL," throwing his head back in laughter.
That big black c*ck. The BBC is possibly the most prominent trope when it comes to black male sexuality. In a society that praises hyper-masculinity, this is arguably a good thing – a 'positive' stereotype. But originally, it was used to dehumanize. A large penis was depicted as brutalistic, used as evidence for hyper-sexuality, hyper-aggression.
Today, this has morphed into a curiosity. A black man will no longer be accused of rape for consensual sex with a white woman. Or, like Emmett Till, lynched for 'flirting'.
One of the most popular subcategories of mainstream pornography focuses on interracial sex. Popular porn website Blacked has won countless awards and is a favourite among black and white people alike. (Note that the CEO and primary profiteer is, of course, white.)
In most videos, BBC is in the title (or at the very least in one of the tags), and large black men are shown having sex with petite white women. The white woman will be completely overwhelmed by her male companion and will often make comments that draw attention to his race and how unbelievably big his black c*ck is. Racial stereotypes have been able to grow unchecked in porn under the guise of a 'fetish'. But what impact does that particular representation have on the black male identity?
I attempted to contact several black male sex workers to discuss this topic. Only two were willing to engage with me, and both wished to remain anonymous, so for their privacy, they will be named Eddie and Joe.
I asked Eddie if most of his clients were white women. He was a little defensive; women didn't come to him because of his 'BBC', they came to him because it was big – he said this with a suggestive chuckle and asked me if I'd looked at the photos. I had.
It has to be said, this was definitely a matter of pride to him. At one point, he offered me the opportunity to 'go deeper' than I ever had before.
I declined.
I read his bio back to him. He repeatedly used racialised phrases such as 'once you go black you don't go back', 'get your first ebony experience', and 'try the BBC'. I pointed out to him that his suggestion that he wasn't marketing himself based on his race fell a little thin. He didn't argue back. In the end, he chose a 'no-comment' approach.
Ultimately, the reason these women visit Eddie is irrelevant to him. It is a financial exchange. Sex work is work, and the attitude he had was that if he was getting paid, the women's motivations did not really matter, and he was proud to be desirable be that for his race, or not.
Joe took a different angle. While his race was clearly stated, it was not used to advertise his services. He wasn't directly writing out to offer a 'black' experience but just, I suppose, what he considers to be an experience worth paying for.
I asked him directly if he had ever felt unfairly sexualised and, after a hesitation, he told me he hadn't. His explanation was that, at 6ft 4, people wouldn't have dared.
In essence, his 'masculinity' protected him.
I asked Joe if he had seen the signs that women were pictured holding up during the Black Lives Matter protests in 2020, signs saying 'I want mixed race babies' and 'BBC matters'. Despite repeatedly asserting to me that he wasn't political and tried not to think too hard about these things, Joe immediately reacted. He had seen, he still remembered, and he was angry about it.
He thought this behaviour was unacceptable – which I think is a gentle word choice considering. Maybe these women thought they were raising awareness, that they were making witty remarks. Either way, it implied that a black man's worth reaches only as far as his penis can.
---
Later, I had a zoom call with Unherd editor Tomiwa Owolade. After reading and enjoying one of his articles, it seemed like a perfect opportunity to strike up a conversation with a stranger.
I told him of my surprise that Joe and Eddie seemed to function in a dual-identity, they seemed able to both enjoy this perception of themselves as hyper-sexualised when it was convenient, while acknowledging the harmful impact it has on their perceived worth, disliking how others viewed them.
Tomiwa raised the pertinent point of how damaging it can be to your identity, to feel that there are expectations that you just don't meet. "You understand the stereotype of the hyper-masculine male, and that is the primary image we see presented in the media of the black male. But I was thinking yesterday, in preparation for this conversation, about the comedian Richard Ayoade – who's the opposite of this stereotype, and I would argue that he is sexy in his own sense, in his funny-nerdish way.
"We should be encouraging people to be confident in themselves. Even if that aligns them even more with a stereotype. If a black man is naturally more confident and masculine and is naturally more like the Idris Elba-type, then that is who he should be.
"I think the problem comes when a man is like Richard Ayoade and feels unacceptable unless he is like Idris Elba. It cuts down his confidence, impacts his mental health and it affects their ability to form effective relationships. Because you cannot connect with people if you lack an honest sense of who you are, an inner authenticity."
An expectation is placed on black men. One that is propagated by their presentation in pornography, and one that finds its routes in colonial degradation. Whether these men choose to take ownership of this or oppose it, the issue seems to come in when white audiences exploit it for their enjoyment (and make money off of it).
---
Georgia Butler is a freelance writer and journalist based in London, covering everything from politics and society to sex and relationships.