Midlake's fifth album is a strangely moving work of art that mourns a lost father, finds comfort in togetherness and reflects on the elusive promise of Woodstock.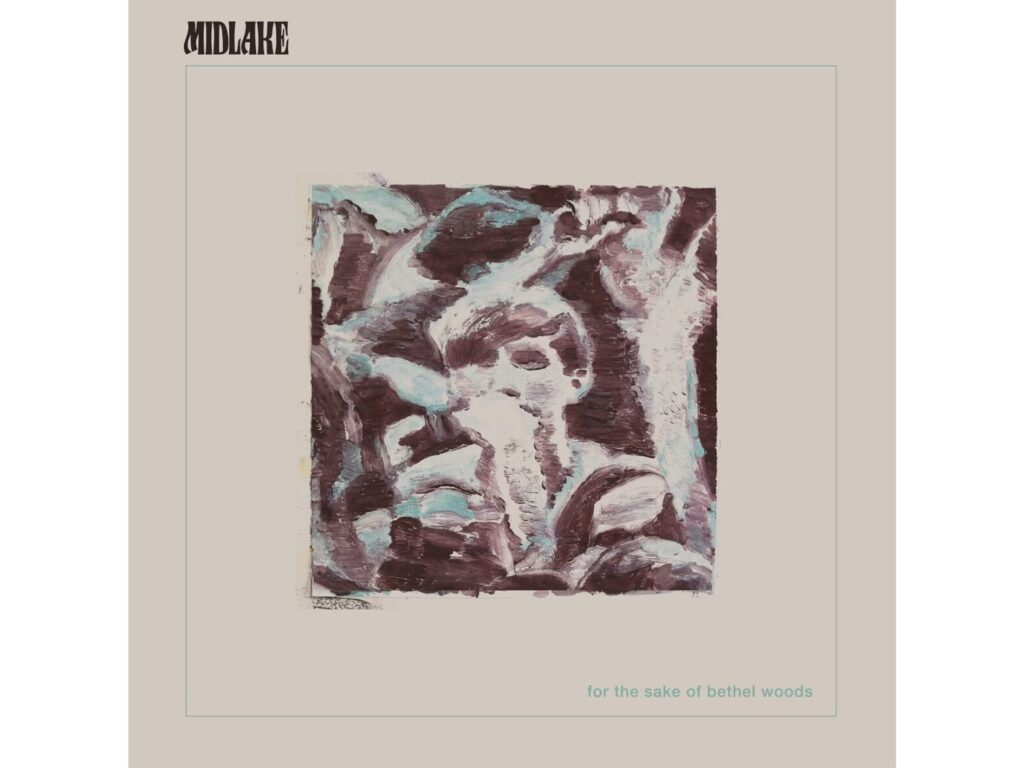 Bethel is a small town in the Catskill Mountains, 70 miles due north of New York City. In 1969 Bethel hosted the Woodstock Festival after its original location, the nearby town of Woodstock, failed to find a suitable showground for the event. The cover of Midlake's new 'For the Sake of Bethel Woods' album features a blurry image of sixteen-year old Dave Chandler – father of the band's flute and keyboard player Jesse – made from a photo taken at the festival after he'd rocked up there with his friend to join the celebrations. And it's around this image and the times it evokes that Midlake's album is built. Dave Chandler died in 2018, and the story goes that he appeared to his son in a dream shortly after, gently suggesting that Jesse should gather the band around and make some new music. Midlake began work on 'For the Sake of Bethel Woods' one year later.
Midlake first convened in North Texas in 1999, as a bunch of nerdy music students who shared a love of jazz and funk. They riffed on ideas inspired by Stevie Wonder and Herbie Hancock before folding in a burgeoning interest in progressive and experimental rock. Their debut set, 2004's 'Bamnan and Silvercork', shook hands with the likes of US folk rockers Neutral Milk Hotel and indicated an interest in Radiohead's new-found ability to take indie music into unexplored conceptual spaces. In 2006, while Mumford & Sons were pumping the folk-rock genre into an end-of-term ball money-making machine with their shirts off, Midlake released 'The Trials of Van Occupanther', the album that chivvied them towards a new audience whose parents may well have owned scratchy records by The Allman Brothers and Sutherland Brothers and Quiver. By now Midlake inhabited a distant, rural world where there was always time to gather around fires and sing about ideas and ambitions. The album's lead single, 'Roscoe', was a folky parable of stone-cutters, mountains, and big country pioneers, laying out the band's fascination for wistful recollections and what-ifs. Rugged, earnest and of the soil, 'The Trials of Van Occupanther' was the millennials' version of Neil Young's 'Harvest'.
'For the Sake of Bethel Woods' is Midlake's fifth album, and the first since 2013's 'Antiphon'. The band took Jesse Chandler and guitarist Joey McClellan on board during the making of 'Antiphon', joining long-term members McKenzie Smith, Scott Lee, Eric Nichelson, and Eric Pulido, who was now on lead vocals following the departure of original lead singer Tim Smith. Steadfastly a self-producing outfit to date, the band have employed an outsider for the first time here, and the presence of John Congleton (producer of Lana Del Ray, Laurie Anderson, and The Killers, among others) on 'For the Sake of Bethel Woods' adds a greater warmth and a new vivacity to the ruminative rurality of the Midlake sound.
On the 'Bethel Woods' track, for example, drums clatter and keys swell in an urgent plea for a return to the time and values of the Bethel days, as Pulido sings, "I could get rid of it all for the sake of the Bethel Woods. To a time and a place where peacefulness once stood". 'Glistening' is built around a Steely Dan-esque guitar figure that points to the band's jazzy past, as swaying vocals and floaty musical breaks become more and more like a slowed-down version of 1936 jazz standard 'Caravan'.
Along with yearning for the same better, more communal, world that the Woodstock generation chased, 'For the Sake of Bethel Woods' is an elemental album, with Congleton and the band somehow managing to create the impression of playing from deep inside a woodland glade, replete with dappled light, warm breezes, and gently rustling leaves. Thus, 'Noble' would work as a soundtrack for 'Where The Wild Things Are', with its layers of keyboards and throbbing textures that wander through forests before building as it starts to run towards the new dawn. 'Exile' is the rumbling sound of a storm gathering, and closing track, 'Of Desire', is an epilogue; a kind of reflective, summing up of the album's themes that suddenly bursts into beautiful life one minute from its end. Jesse's dream about his dad manifests throughout, of course. 'Meanwhile…' is ethereal, elusive, and otherworldly. "Then he came to me in a dream," Eric Pulido sings. "Did it so vividly…". 'The End' is an emotional longing for a father departed.
Throughout 'For the Sake of Bethel Woods', Midlake stick to the set's conceptual template: musical ethereality underpinning poetic, thoughtful words. There are times, though, when the band's other predilections emerge from the mist, however briefly. 'Gone' is a finger snapper that picks up the album's pace, with its almost rock'n'roll walking bassline and twiddling, spacey guitar stabs. 'Feast of Carrion' could be Yes in the modern day, complete with Jon Anderson-flavoured breathy vocal swoops and a psychedelic synth solo, while 'Dawning' sits somewhere between an all-night magic mushroom trip and the sort of wobbly music that bookended 70s kids' sci-fi TV shows.
Midlake have been criticised for a few things over the years. For their seriousness, for a lack of originality, and for appearing to leap unsteadily from one style of music to another without ever really committing. But the 'For the Sake of Bethel Woods' album introduces a new Midlake; a band whose years of searching and refining have served them well. Congleton's involvement has proven to be a smart move, with the breadth of his experience making sure the album is a fluid listen that shifts naturally across the tracks. And, sure, the original reference points remain (it's unlikely the band will ever shake off the early Neil Young comparisons), but this is a band building on a rich legacy carved from folk traditions – and folk music actually requires reinterpretation over time in order to thrive, evolve and remain relevant. As far as seriousness goes, what was once considered naivety has now aged into wisdom. 'For the Sake of Bethel Woods' is a distillation of the band's eighteen-year crusade to take on big issues like togetherness, bereavement and finding peace.
'For the Sake of Bethel Woods' is out now on CD, standard black vinyl, 180g white vinyl, and white vinyl with an accompanying signed print.
---
Simon Coates is a London-based artist, writer and curator.  He is also the founder of the arts and activism platform Tse Tse Fly Middle East.