The artist formerly known as Kanye West's new album Donda 2, released in the same month as a Netflix documentary about his life, is the latest baffling chapter in a story that never seems to end.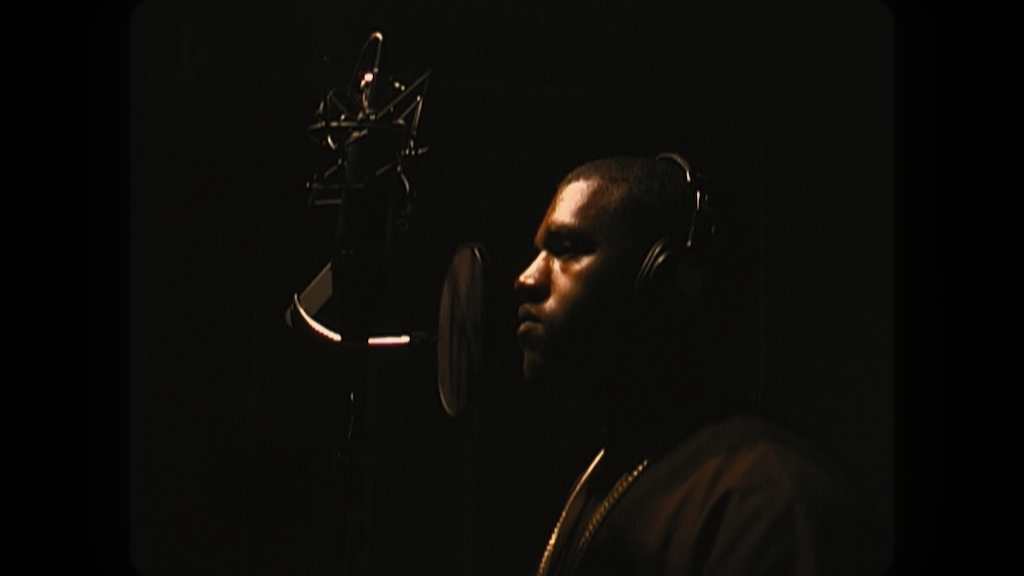 "It's time to take control and build our own," said Ye in an Instagram post announcing that his eleventh studio album Donda 2 would not be available on streaming services. The caption accompanied a video of the Stem Player, the device which, for $200, would — purportedly — allow fans to hear the record, and a snippet of 'Flowers', the closest thing we've heard to a lead single. "Too much trauma lately…" it goes. It's not vintage Ye, but its title recalls a lyric from his golden years, from Graduation track 'Big Brother': "If you admire somebody you should go ahead and tell 'em; people never get their flowers while they can still smell 'em".
It's a tragic truism that we as a society seem to save our fondest tributes for someone until after they're dead. It sometimes feels as though Ye's entire career, and especially its last six months, has been an attempt to correct that, with the artist himself leading his own appraisals like he's speaking — and conducting the orchestra, and presenting a slideshow — at his own funeral. The event at LoanDepot Park in Miami that marked the official release of Donda 2, like the two events that accompanied Donda last August, felt less like a concert or listening event and more like a no-holds-barred, hands-in-the-air, appreciation of the man in the middle. At all three events, thousands in the stadium and millions at home kept their eyes trained on Ye, though he wasn't really doing much other than posing and dancing. There was a life-sized replica of the house he grew up in. As the second event concluded Ye seemed to levitate through a beam of celestial light, abducted by some higher power and lifted to the heavens like a fallen angel.
Add to this the fact that, coinciding conspicuously with the album release, a three-part documentary called jeen-yuhs has arrived on Netflix, one episode at a time, detailing the narrative arc that is Ye's life. (In the same week a line of clothing designed by Ye with Gap and Balenciaga also arrived, but there simply isn't enough space on the internet to write about that too.) It all feels a lot like eulogising, but it really is worth remembering that Ye is not dead. Nobody will ever ask you where you were when Ye's Donda 2 listening party happened. In fact, when all is said and done and the time does come for highlights reels and list articles assembling the most significant moments in Ye's unending life story, it seems highly possible that this particular chapter may not even feature. (You'll have noticed I'm calling him Ye by the way. That's not a term of endearment or familiarity. It's actually his name now.)
As I'm now more than halfway into this review I'll confess that, at the time of writing — the day after Donda 2's scheduled release date — only four songs from the album are available. Reminder: that's "available" if you've paid the $200 (or £200 in the UK — the 75p to a dollar exchange rate seems to be lost on Ye — plus postage.) for a Stem Player, working out at $50 per song. I shall review those songs now. One of them is 'Security', a disturbing track produced around a sample of Mica Levi's score from the 2021 film Zola; it's disturbing because its lyrics resemble threats to Ye's divorced wife Kim Kardashian, to getting past her bodyguards and getting a kiss from her mum; but it's also freakishly stirring and one of Ye's best productions in years. 'Pablo', starring Future (supposedly the album's exec producer), is good too, a trap beat with a typically narcotised verse from the Atlanta rapper. 'Broken Road' is less effective, Don Toliver's hook an inferior version of The Weeknd on last year's 'Hurricane' and Ye's raps sounding forced and rushed. Then there's 'We Did It Kid' with Quavo, Offset and Baby Keem, which is enjoyable enough if you like Migos' brand of faux-triumphant trap fanfare.
At this stage though the music seems almost besides the point. More telling is the number of previously adoring fans who seem to be turning on Ye. Already frustrated at having to shell out half a week's wages for a Bluetooth speaker the colour of a hearing aid just to hear the music, many of those on the Kanye subreddit are declaring Donda 2 the latest disappointment from an artist in decline.
In a 1977 article in the Village Voice titled 'Where were you when Elvis died?', music journalist Lester Bangs wrote that the worst crime an artist could commit was to hold their fans in contempt, adding that the 1970s were dominated by solipsism and that "Elvis might be the greatest solipsist of all". That's solipsism: the belief that you yourself are the only thing that truly exists. These days we call it 'main character syndrome', and it's more prevalent in the 2020s than it ever was in the 70s. Ye is even better at it than Elvis was, so good in fact that he makes Elvis seem community-minded by comparison. Writing of Elvis's late-career releases — albums made almost entirely by rehashing old material — Bangs states that the proverbial King's greatest sin was in failing to realise that his fans loved him no matter what and would gladly buy any music he sold them. But what's the King to a god? In promising an album and delivering, at 50 quid a pop, four songs that, as one popular Reddit post argues, "fucking suck ass", Ye's treatment of his fans goes way beyond contempt, landing somewhere between feckless condescension and emotional abuse.
Ye has always wanted to be liked, to control his own narrative and pull on his audience's heartstrings like a puppeteer. In 2004, when the documentarian behind jeen-yuhs Clarence 'Coodie' Simmons suggested to Ye that the film was ready for release, Ye disagreed, telling his friend he wasn't ready for the world to see the real him. It's ironic in a way that Ye should give the green light now, at the height — nay, the nadir of his mind-warping fame, as far from a real person as he — or perhaps anyone — has ever been. Maybe it's an attempt to regain control of the narrative as it slips from his grasp. Maybe it's a stroke of genius.
---
Sam Davies is a journalist and editor, who has written about music, film and culture for publications like the BBC, Guardian, Financial Times, Vice, Dazed, Pitchfork, Bandcamp, Reader's Digest and others.