At the Hayward Gallery in London, a new exhibition dedicated to the life and work of the artist Louise Bourgeois shows remarkable pieces full of raw emotion.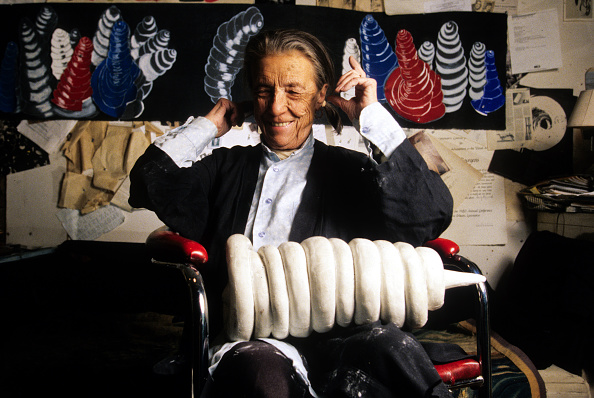 Much of the work in the show focuses on the female body, often depicted as if in a state of abjection or crisis of some kind." I'm talking to Ralph Rugoff, director of London's Hayward Gallery and curator of a new survey of artist Louise Bourgeois's work entitled 'The Woven Child' that runs in the space until May. Bourgeois never explicitly referred to herself as a feminist, but does Rugoff think the exhibition represents elements of feminism? "Louise Bourgeois also gave primary importance in her work to representations of mothers and maternal activity – including her great sculptures of spiders. But there's also a good deal of work in which gender distinctions are blurred or where she seems to be questioning conventional ways of thinking about, and representing gender."
When Louise Bourgeois died in 2010 aged 98, art critic Christopher Knight said of her "Bourgeois was the first modern artist to expose the emotional depth and power of domestic subject matter. Before her, male artists had only nibbled around the edges, and women just weren't allowed." A gender pioneer, Bourgeois was the first female artist to create artwork that directly reflected on her role as a woman, and on the struggles and terrors that society foists on women as daughters, mothers, homemakers and sexual partners. And, while 'The Woven Child' is the latest in a long line of surveys of the artist's work, it is the first to gather together textile and fabric artworks created during the artist's later life, some of which are on show for the first time.
Born in 1911 in Choisy-le-Roi, just outside Paris, Louise Joséphine Bourgeois spent her early years working for her parent's tapestry repair business, a job that helped inspire the new exhibition's title of 'The Woven Child'. "Louse Bourgeois made a number of works with this title – some of which are included in the exhibition," explains Rugoff. "And, inasmuch as her turn to fabric late in life was also a return, of sorts, to a material she first became intimately acquainted with whilst working as a child in her family's tapestry restoration workshop, it seemed like an apt title for the exhibition." Bourgeois moved to New York in 1938 after marrying American art academic Robert Goldwater, continuing her academic studies at the Art Students of New York. By the 1950s she was an established artist, exhibiting regularly and rubbing shoulders with the likes of Mark Rothko, albeit often on the arm of her art socialite husband. It wasn't until she was in her fifties that Bourgeois began to gain critical recognition, the dark beauty and silent screams in her work having caught the eye of American curator and critic Lucy Lippard. In 1982, when she was aged seventy, New York's Museum of Modern Art staged Bourgeois's first thorough retrospective.
Louise Bourgeois's visceral, open approach to her practice has echoed loudly across the years, with major artists picking up themes that remain true to her honesty. Abstract Expressionism pioneer Eva Hesse took inspiration from the found materials Bourgeois chose to communicate her findings on gender and sexuality. In 2011 Bourgeois collaborated on a series of gouache paintings with Tracey Emin called 'Do Not Abandon Me'. Bourgeois started each piece by painting a male or female torso on a piece of paper that was then passed on to Emin for her to add embellishments. The results are arrestingly candid and sexually explicit. Sarah Lucas' stuffed stockings are a direct nod to Bourgeois's packed cloth limbs. Lynda Beglis has expressed her debt to Bourgeois. Generous with her time, during the 1970s Bourgeois held what she called 'Sunday, Bloody Sundays' salons at her New York home, where she critiqued artworks and perused portfolios from invited young artists and students.

Featuring more than ninety artworks, 'The Woven Child' exhibition focuses on pieces created from the mid-1990s up until Bourgeois's death. And, while drawings and collages are on display, the presentation consists largely of sculptures and installation works made using scraps of clothing, domestic textiles and woven oddments. Pieces of towelling and dishcloths are sewn, picked at, ripped, cut, and then sewn together again in a process that Bourgeois would describe as cathartic and psychologically calming. Bourgeois is perhaps best known for 'Maman', the enormous black metal spider she built in 1999, and the exhibition includes an earlier version ('Spider' from 1997), with the fifteen-foot high eponymous creature resting on a steel cage draped in torn pieces of tapestry. Elsewhere, glass vitrines are used to frame and contain squashy, stuffed anthropomorphic forms. I ask Rugoff if displaying artworks made of fabric and textiles poses any problems. "Fabric is vulnerable to wear and tear, so consequently a great many of the works with fabric were designed to be displayed in vitrines," he says. "In some cases, the use of the vitrine seems to enhance or augment the meanings and impact of her sculptures – especially when life-sized figurative sculptures are squeezed into vitrines, as is the case with a remarkable pair of sculptures that feature copulating couples." A difficult question for any curator, but what does Rugoff consider is the most important piece in the exhibition? "Impossible to say this, as it's ultimately such a subjective judgment, but she made a series of four large vitrine works over the last five years of her life in which she brought together different types of sculptures that she'd made, as if fashioning a retrospective presentation. The works in these vitrines all reference the body but often in oblique or quite abstract ways, whilst they also mix up highly varied forms to create an overall visual rhythm that's utterly distinctive and unlike any other sculpture in the history of modern art." And is there a favourite? "There's a stunningly abject work called 'High Heels' that's a favourite of mine, and that seems to call out the morbid underside of fashion." Created in 1998, 'High Heels' is a metal and fabric sculpture of an abstract, face-down female form that bleakly relays ideas of supplication and obedience. "Her focus was on raw emotions," Rugoff continues. "And she never pulled her punches. Quite a few of the sculptures explore subjects that often make us uncomfortable – loss, psychological trauma, sexuality and mortality."
---
Louise Bourgeois: The Woven Child exhibition is at the Hayward Gallery in London from February 9 until May 15 2022.
---
Simon Coates is a London-based artist, writer and curator. He is also the founder of the arts and activism platform Tse Tse Fly Middle East.