The story of one family fleeing Ukraine and the father they left behind.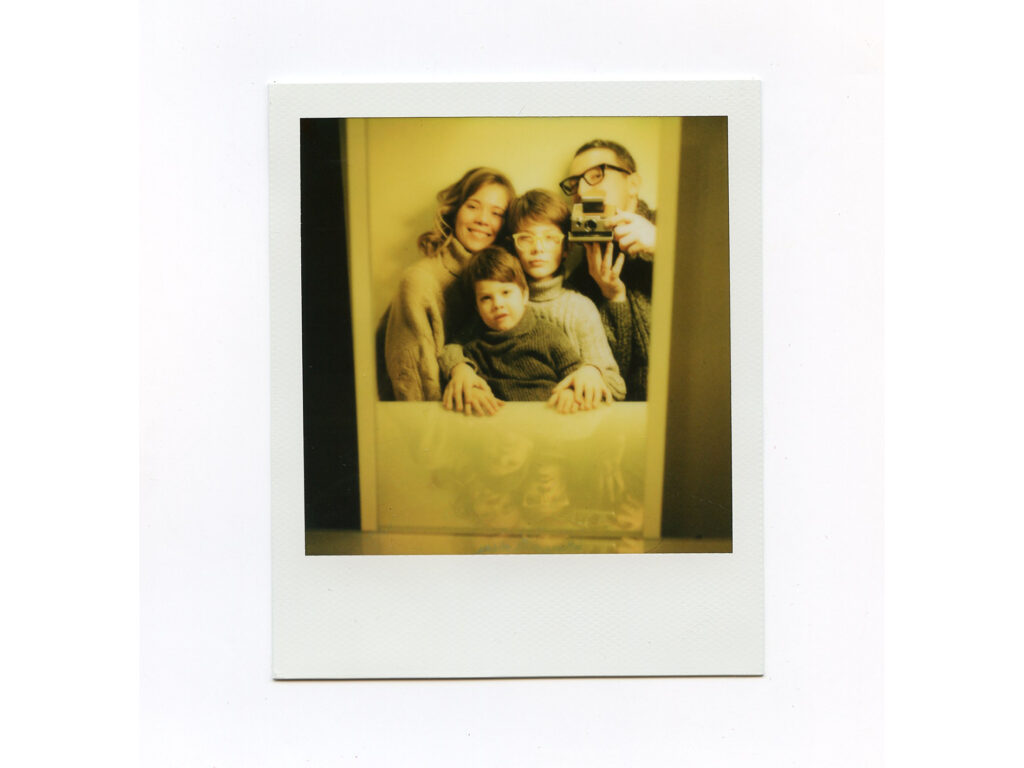 It is Sunday, March 6, and the 4-year-old boy, his older brother Marko 10 and their 33-year-old mother Sofia are waiting in line to have their documents checked at the Polish border town of Hrushev about 50 miles from their home in Lviv. Ahead of them is a gruelling 3hour 30-minute, 272.5 km (169 mile) journey to the security of Krakow leaving Sofia's husband, the children's father, Taras, to take the long road back to Lviv alone.
It is a heartbreaking moment when the family are called forward. There are quick hugs, tears, reassurances from Taras that he will be 'okay', and then they are gone, to exile and the relative safety of Poland.
The loneliness of the return trip to Lviv eats away at the photographer and he consoles himself that his wife and children will soon be in Krakow and safe from Putin's maniacal war on Ukraine.
It's emotional.
"I'm absolutely destroyed," he tells me. "It is the first time in our life I'm not with my children and wife and I can't…care [for] them."
In 12 years together it is the first time they have been separated and the duration is, at the moment, unknown. It could be a week; it could be a year or longer.
The decision has not come easy for Taras or his family and he has already fought his own war.
"I had a cancer treatment (Hodgkin's Lymphoma)," he tells me and confirms he is in remission but goes on to say that he fears the situation In Ukraine and Putin's merciless attack on its people will undermine his recovery.
With the situation worsening in the country, the safety of Sofia, Marko and Yurko had become paramount and the collective decision was made to spirit them away into exile in Krakow, Poland.
"I've insisted [on] moving my family since the war started, but my wife and children didn't want to do it," Taras told me by email. "But [to] stay was very stressful for our children, as the atmosphere was so hard. So, we decided [they]… leave because the situation starts to become worse.
"But today when my family is in a safe place, I have already calmed down. I'm in contact with them and I know how they are doing."
Since early March Taras has been maintaining contact with me by email and he tells me that, "I am very grateful to my friends who have helped me a lot finding a place to live (for his family). Tomorrow (March 8) my family will be able to leave the hotel and move to another more comfortable place. Poland is a…fraternal country. I'm impressed with them."
Sofia, Marko and Yurko are part of almost two million Ukrainian citizens (according to The United Nations) displaced in the first 14 days of war. An exodus of mostly women and children (some old and disabled as well) who have fled Ukraine as their husbands, fathers and sons have been forced to stay behind to defend their country. Families broken apart by the ruthless actions of the Russian leader. Note: some brave female volunteers have also stayed behind to help the war effort.
At the time of writing (March 9, 2022) Poland has already taken over a million refugees in the two weeks of war, while Hungary has taken over 180,000, Slovakia over 128,000, Moldova over 84,000, Romania approximately 80,000, Russia 53,300 and Belarus 406. The rest of Europe (collectively) has taken around 183,600.
No doubt these numbers will continue to rise in the days and weeks ahead with a figure of four million forecast by the United Nations.
Taras Bychko is a well-known photographer in Ukraine, across Europe and the rest of the world. Predominantly a documentary and street photographer, he initially graduated from the University of Lviv law school and worked for a period as a legal advisor at a large state-owned enterprise. But soon turned to photography and has been successful in his new career.
He has had his work exhibited at the Miami Street Photography Festival (2016, 2017, 2018), Eastreet, the photography of Eastern Europe (2017) and has authored several books including 'Sykhiv' (Lviv 2020) and '2Rooms' (Lviv 2021). Taras also won the Ukrainian National Competition 'Photographer of the Year' in 2016 and secured second place at the Documentary Family Awards (2018). One of his photos was included in the book, '100 Great Street Photographs' (Prestel 2017) and his work has appeared in many publications including National Geographic, Burn magazine and LensCulture.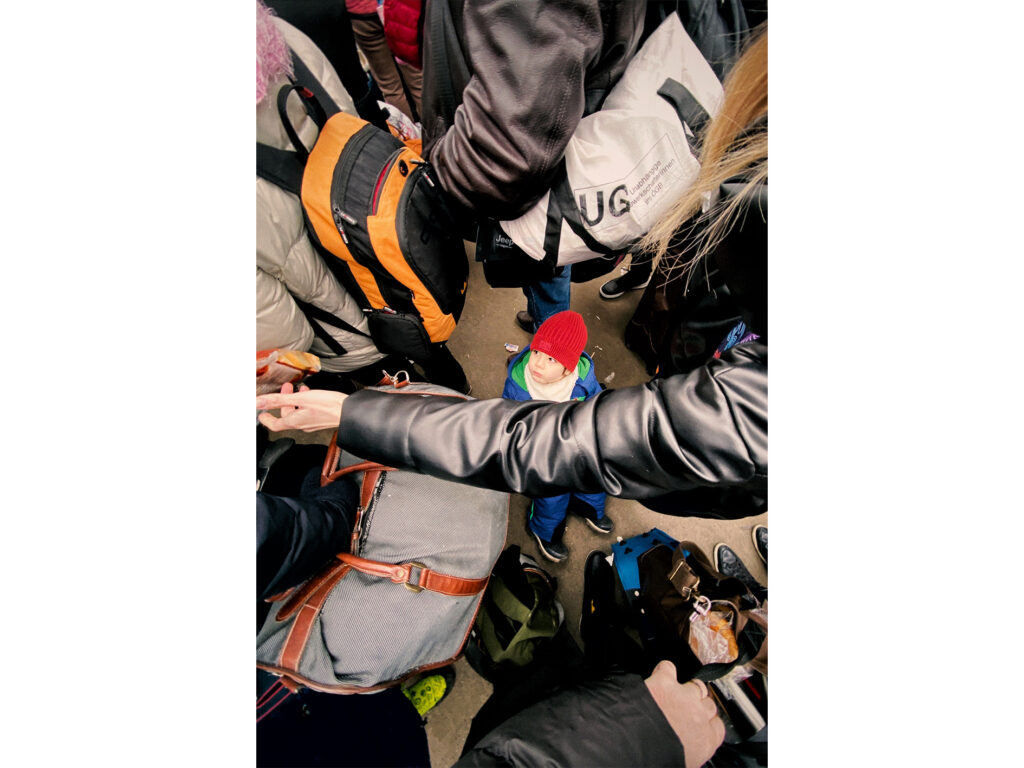 Lviv, where the Bychko family lives, is in the west of the country and thus far has been relatively free from the consistent Russian military bombardment of other Ukraine cities.
Taras describes it as a city with a rich history, of beautiful architecture, cathedrals, townhouses and numerous coffee shops and attracts many tourists every year.
"But there is another Lviv," he tells me. "Where you will you will not meet crowds of tourists, but in which life exists in parallel – the youngest and largest district of Lviv – Sykhiv."
Taras was born and raised in Sykhiv and it is where he and his family had lived until his wife and children were forced to flee to Poland.
In 2020 the photographer produced a series of acclaimed photographs now collected into the aforementioned book and titled, 'Sykhiv', after the district.
But the people who are left in Lviv know what is coming.
"The atmosphere is so tense Sergio," he writes poignantly. "The situation in the city has changed incredibly. Everything that was familiar has changed."
It is a shadow across Lviv as those who remain wait for what they believe will be the inevitable.
The Bychko family story is just one of the many tragic stories that echo around war torn Ukraine. As families flee the fighting, they are forced to leave their men behind. Every able-bodied male between the ages of 18 to 60 have been ordered to stay and fight. All in an effort to try and defend the country against the Russians. They are asked to fight this completely unprovoked act of aggression and stop their enemy from capturing their democratically formed European nation.
None of the Husbands, fathers or sons, (or indeed mothers, wives or daughters) who have remained in Ukraine have any idea when they will see their families again.
Meanwhile Taras and his mother volunteer at the local school and he is selling his photographs to try and help his family now in Krakow while also supporting Ukrainian volunteers.
This is an invasion that has galvanised the Ukrainian people. Ordinary people who have come together to defiantly battle Putin and the might of the Russian army. People from every walk of life and of every job description, including photographers, artists, and peace-loving animal lovers have been pushed into action against their aggressive invader.
We must also mention people like Illia Ponomarenko (I fear he may be forgotten in the chaos of the present and the aftermath of war). The Kyiv Independent journalist has bravely reported from the frontline and frequently tweets his reports in text and video from the southeast of the country where the fighting has been particularly ferocious.
Meanwhile, Taras is unequivocal about what he believes the west should be doing to try and help Ukraine.
"Economic sanctions aren't enough," he says, sounding frustrated. "Because their final results in present time are very slow. [And] because every day the Russian aggressor takes the lives of civilians. As for now they killed 38?! children ( this was on March 9 the numbers might be higher by now). Just imagine! They throw their bombs on residential areas, schools, maternity hospitals and bakeries. It's a vile war of a terrorist state. Russia has never been a brother country. All the time her policy was aggressive."
I ask him what he thinks the west needs to do?
"To close the sky," he immediately comes back. "To continue sanctions. To impose an embargo on oil and gas. Putin and his allies must be convicted by a military tribunal."
Several people have already called for Putin to be tried for war crimes. The bombardment of a maternity hospital in Mariupol in the south of Ukraine has shocked and appalled the world and many, including British opposition leader, Keir Stammer, have called for Putin to be held accountable for his actions.
People like Taras and Yevgen, a Ukrainian ex-pat I spoke with recently in Glasgow ask me how long will the world stand by and watch these awful events unfold in Ukraine? How long will they look on as civilians, pregnant women, children and old people who can't escape, are subject to incessant bombardment. Their lives ruined by Putin's Soviet rebuild obsession?
I have no answers for them. How long, indeed, will this tragic humanitarian crisis continue or be allowed to continue?
Meanwhile, Taras is philosophic about the awful situation he finds himself in.
"Understanding that my family is safe is priceless. So, I slept better," he said in an email written on March 7, the day after his family travelled to Krakow. "Now I want to hug them as soon as possible."
---
Sergio Burns is a journalist whose work has appeared in serveral newspapers and magazines including Mail On Sunday, Sunday Herald and In These Times(USA). He now works as the Editor of AM Magazine in Scotland.