Regardless of one's opinion on Democratic US President Joe Biden, he inherited some dire circumstances when he was inaugurated on 20 January 2021. His mission was clear – he wanted to unite his country.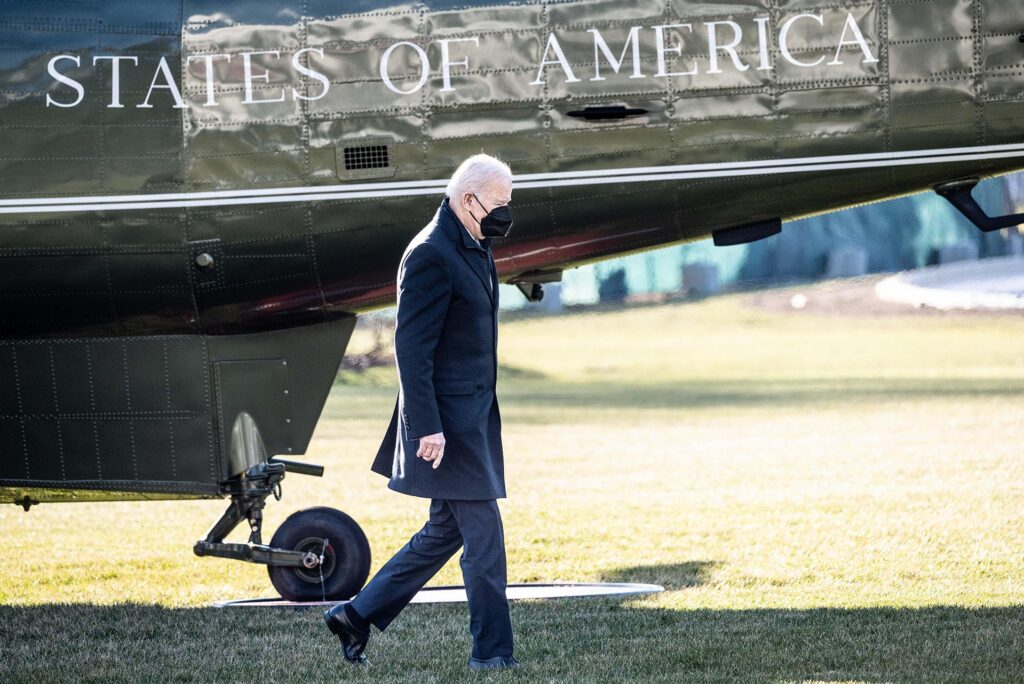 The coronavirus pandemic brought about the shortest recession in US history, with economic activity coming to a halt in March 2020 and picking up again in April 2020 according to the US Business Cycle Dating Committee, which announced its findings in July 2021. A booming economy would normally help US presidents facing re-election in normal circumstances.
The positive effects of the US's economic recovery were not felt and the coronavirus has spiralled out of control. The US jobs report for April 2020 reported that the country had lost 20.6 million jobs since mid-March, resulting in an unemployment rate of 14.7 per cent, a figure not seen since the 1929 Great Depression. Also, 345,323 people died of COVID-19 in the US in 2020.
With two-thirds of Americans across both parties viewing COVID-19 as a significant crisis that could spark a recession, the coronavirus itself quickly became the most important issue in the 2020 election. With all this happening under President Trump's hapless watch, it is no wonder it became easy for Biden to centre his campaign around tackling the coronavirus. The Democratic candidate won more than 80 million votes, which is more than any of his predecessors, so he did succeed in uniting a large, multiracial coalition of voters behind him back then. This result should have given him a platform to reunite the country during his presidency.
Instead of a peaceful transition from the Trump to the Biden administration, what followed were events that revealed how divided America truly was. Many Trump supporters who ended up storming the US Capitol on January 6 2021 having believed the president's lies and right-wing populist propaganda disseminated on social media, felt like the election had been stolen from them, with allegations of electoral fraud still circulating among diehards to this day. The far-right insurrection of January 6 and Trump's continued, baseless claims about election fraud presented the new President, a naturally conciliant man, with a difficult task and made uniting the country all the harder.
Meanwhile, governing has proven much more difficult than electioneering for the President. Though he passed his $1 trillion infrastructure bill into law that unlocked funds for transportation and utilities, he only did so with Republican support. Centrist politicians like Democratic West Virginia Senator Joe Manchin and Democratic Arizona Senator Kyrsten Sinema argued the original bill went too far, whilst more left-leaning members of Congress, like Democratic US Representative Alexandria Ocasio-Cortez, argued it did not go far enough to tackle climate change.
---
In December, Manchin in an interview with Fox News argued that Biden's Build Back Better Act – which proposed $1.75 trillion in social and climate spending was effectively dead. It is clear that Biden has struggled to heal partisan divisions within his own party and across the political divide in America, and that will continue to impact on his ability to govern and then make it harder to unite the country, as recent events have proven.
Biden's performance in opinion polls has worsened during his first year in office. Morning Consult Political Intelligence reported that 56 per cent of voters approved of the President's performance in January 2021. The same organisation found in November 2021 that his approval rating dropped to 42.9 per cent, and that his approval rating is down in 11 battleground states. The Republicans are currently the favourites to win the mid-term elections in 2022.
Though Biden's ratings were steady in April due to an economic recovery and the vaccine rollout, Morning Consult Political Intelligence's findings reveal that his numbers dropped in August due to the hasty withdrawal from Afghanistan, and inflation hitting a 31-year high. Afghanistan was particularly damaging for Biden's presidency and tarnished his image as the unity president. A USA Today/Suffolk University poll found in August 2021 that 32 per cent of independent voters, who determine which president wins an election in battleground states, approved of the President's performance. This means he would lose in 2024, regardless of who the Republican candidate is by then. An NBC poll found that same month more than 50 per cent of voters disapproved of Biden's handling of the coronavirus and the economy. By November, USA Today found 38 per cent of voters approved of Biden in general.
Despite this, opinion polls are not always an accurate reflection of how most people feel about a politician. Nonetheless, the birth of the 'Let's Go, Brandon' movement among conservatives in response to a NASCAR interviewer telling racing driver Brandon Brown the crowd were jeering 'let's go, Brandon', when they were supposedly shouting 'F**k Joe Biden', shows that Biden has struggled to convert many conservatives, and voters in general, to his cause.
With gas prices rising to $3.41 per gallon, drivers have expressed their frustration by plastering gas pumps with Biden 'I did that' stickers, which include a picture of the President pointing his finger, either left or right, and people are positioning them next to gas prices at gas stations.
Overall, these circumstances that have unfolded since August 2021 suggest that Biden has failed to unite the country one year into his presidency. If the polls are accurate and the GOP wins the 2022 mid-terms, this would be a damning indictment of his presidency.
---
Matt Snape is a freelance journalist who has written for a variety of publications such as Il Giornale/Inside Over, HITC, Blasting News, the i Paper, the Metro, and the American Conservative.